Shenzhen, China, September 28, 2019 – TP-Link®, a leading global provider of consumer and business networking products, today announced Archer AX10. This latest addition to the AX series aims to provide Wi-Fi 6 to everyone all at a price comparable to its Wi-Fi 5 predecessor.
TP-Link continues striving to make cutting-edge technological advances fully accessible. Pioneering Wi-Fi 6 routers, Archer AX10 drastically improves throughput and capacity, enabling 4K streaming, high-quality video chatting, and other stability-intensive applications to perform better in dense usage scenarios. The latest Wi-Fi 6 standard will boost speeds, expand coverage, reduce latency, and prevent dropped connections for homes with numerous devices.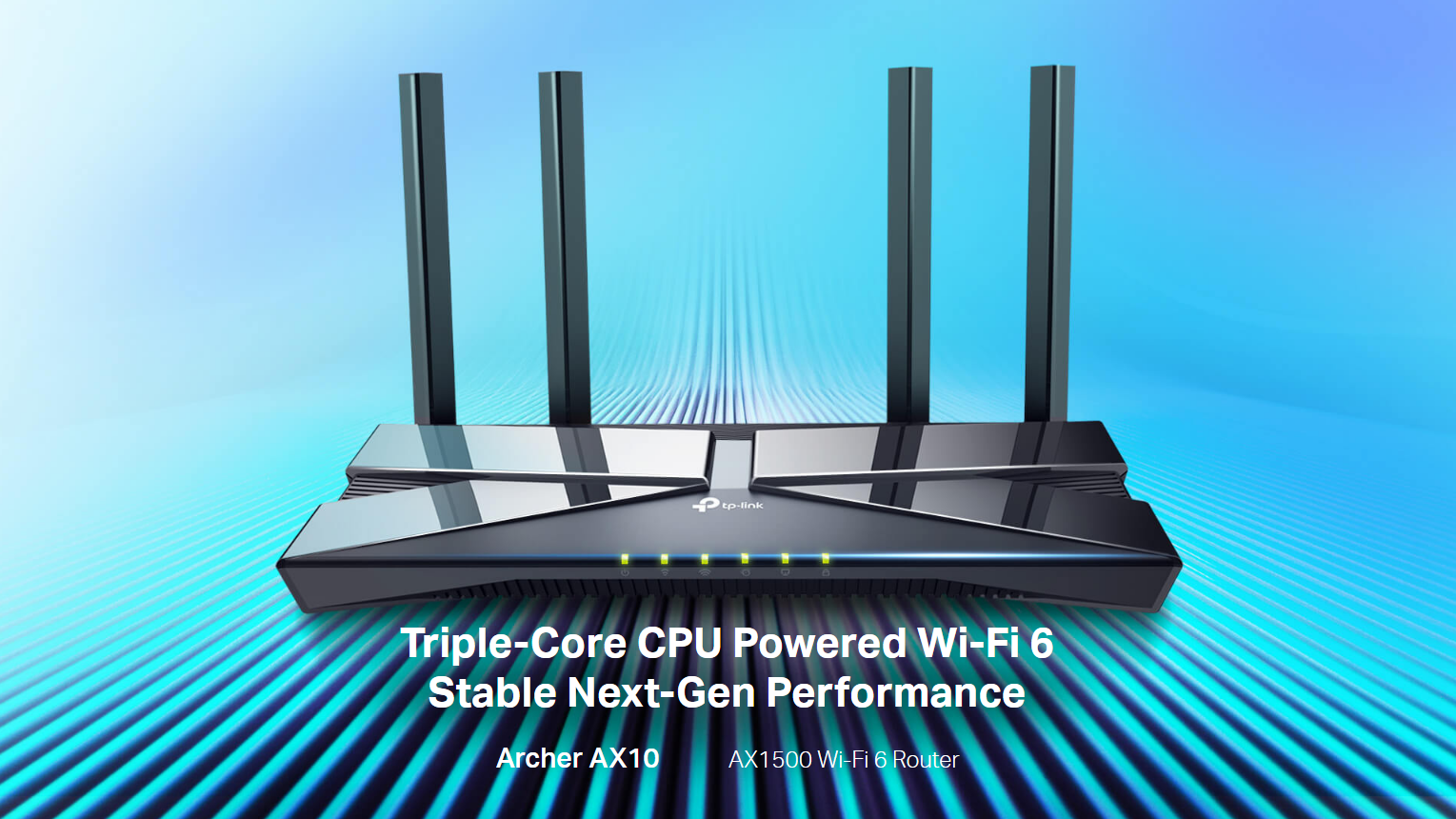 Connect More, Stay Smooth
Archer AX10 transmits maximum Wi-Fi throughput for multiple devices without bumping up latency thanks to the introduction of OFDMA technology. With 1024-QAM and a higher symbol rate, the router provides up to 1.2 Gbps Wi-Fi speeds for a single mobile device — 40% faster than a 2×2 Wi-Fi 5 router. With shared Wi-Fi becoming less taxing, streaming just got that much better.
Boosted Coverage and Greater Stability
Coverage is also getting a boost with Wi-Fi 6. The newly introduced longer Guard Interval (GI) protects Wi-Fi signals from interruptions and consequently expands range. The longer GI, Beamforming technology, and 4 antennas let Archer AX10 cover a broader area. Families can feel free to move around while enjoying stable Wi-Fi throughout in their homes.
High-Responsive Performance
It's not just Wi-Fi 6 that makes this deal worthwhile. Equipped with the latest 1.5 GHz triple-core CPU, Archer AX10 forwards network requests with minimal delay and is highly responsive to every click made. Compared to its predecessor, it pushes even higher throughput without compromising latency.
The Wi-Fi 6 Experience Starts Here
Many products are making big splashes today. The Samsung S10 and Note 10 series, iPhone 11 series, Razer Blade 15, and Dell XPS 15 are all starting to include Wi-Fi 6 support. To take advantage of this new wave of home connectivity, owners should consider filling their homes with Wi-Fi 6 using Archer AX10.
Archer AX10 Key Features:
Faster Wi-Fi 6 — Get Next-Gen Wi-Fi speeds up to 1.5 Gbps.1
Triple-Core CPU — Instant responses to all network activity with a 1.5 GHz triple-core CPU.
Broader Coverage — 4 Antennas and beamforming technology focus signals towards individual clients for broader coverage.1
Connect Dozens of Devices — More simultaneous connections and higher average throughput with OFDMA.2
Full Gigabit Ports — Take full advantage of broadband speeds up to 1 Gbps.
Easy Setup — Finish network upgrades in minutes with the Tether app.
Compatible with Alexa — Control routers via voice commands and make life smarter and easier with Amazon Alexa.
About TP-Link
Founded in 1996, TP-Link is a global provider of reliable networking devices and accessories, involved in all aspects of everyday life. The company is consistently ranked by analyst firm IDC as the No. 1 provider of Wi-Fi products,3 supplying distribution to more than 170 countries and serving hundreds of billions of people worldwide.
As one of the world's leading companies in the networking industry, TP-Link has two decades of iterative inventing and testing. To realize the vision of making a superior digital life available to all, we're combining the latest technology and know-how into products ideal for multi-device usage scenarios.